Today I am going to share one of My travel experiences with you: A trip to The Heart of India: Rajasthan…!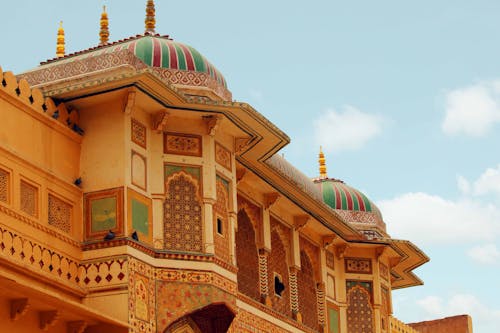 Day 1: 5th January 2020: A trip to The Heart of India: Rajasthan…!
We started from Pune at 5:30 PM via Pune-Mumbai Expressway road. Heading towards our destination we stopped for our Dinner at Kinara Dhaba, Navghar, Maharashtra – 401201.  Good food and ambiance with ample parking space right next to the highway.
We then started towards or next milestone heading towards Gujrat state.  We planned to halt at Hotel Highway and Rooms, Bharuch, Gujrat.  A good place to stay, Next to Highway with a restaurant below.
Day 2: 6th of January 2020
We started from the Hotel at 9:15 AM on the 6th of January 2020 for our Destination.  We stopped for breakfast at Hotel Sarvottam, Bharuch, Gujrat which was next to the Highway.  Samosas, Sandwiches, and Tea were of good taste. We started our Journey towards Rajasthan state.
We reached Udaipur at 5:00 PM and had a small snack break at Hotel Punjabi Dhaba, Next to Gordhan Thal, City Station, Udaipur.
Moving further we reached Ajmer and halted at Hotel Shardul, Ajmer.
Day 3: 7th January 2020
We visited the Garib Nawaz Dargah. It was a pleasant morning and we then moved to Pushkar (Place with the only Brahma temple in the World).  We performed a pooja at the Pushkar Lake and also came to know about the history of Pushkar.
Had our Breakfast at Puskar at a Dhaba cum Restaurant.
Enjoyed the Aloo Paratha, Chole Bhature, Curd, Dal Bhati Churma, and Tea.
Moving forward we started towards Jaipur, The Pink City. We reached Jaipur at 4:20 PM and booked our stay at Hotel The Hampton Park, Collectorate Circle, Banipark, Jaipur-302016.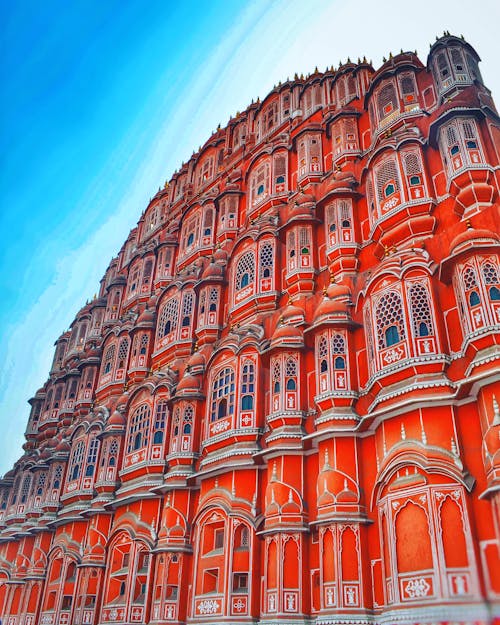 We Freshened up and then traveled by local transport to City Palace, Jaipur.  It is a good palace with an arms and ammunition museum inside.  Ticket Rs.200/- Person.
Later we walked on the busy streets of Jaipur doing window Shopping and then reached Hawa Mahal.  A great view from the road with spotlights all over the monument.
Great Photography skills were observed and shown while clicking the photos of Hawa Mahal Uniquely.
We had some evening snacks and then continued with the Shopping.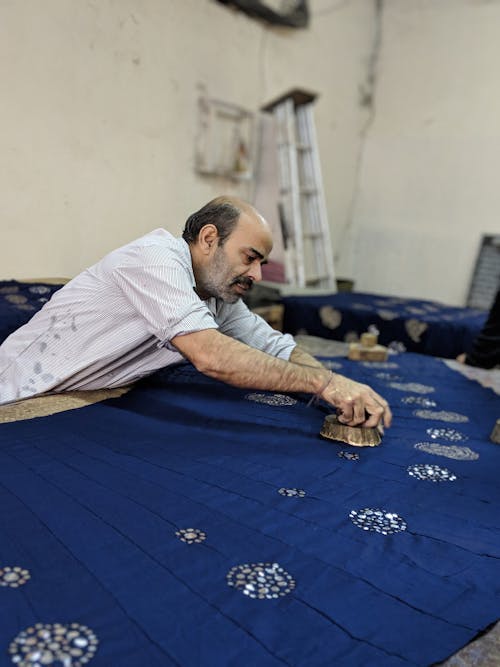 In the end, we visited Handi Fusion restaurant.  Though we didn't have meat, Lal Mass is a special meat dish served in Rajasthan. Also Had Ice cream at a renowned place Jal Mahal Ice cream Parlour
We went back to our hotel and rested.
Day 4: 8th January 2020: A trip to The Heart of India: Rajasthan…!
We hired a taxi for our future city exploration. We started our day with some experimental Shopping.
The Authentic Rajasthani store showed us how they made designs on Sarees, Rasais, BedSheets using old molds and organic colors. We also saw different types of Woollen Rasais made out of Pashmina wool(Kashmir Special).
We did some shopping and then headed towards Jal Mahal.
A palace in Water. We then moved further towards the Nahar Garh Fort. There was a Wax museum and Sheesh Mahal with entry Rs. 500/- person.
Then we saw magic and a puppet show out in the surrounding.
Now we stopped for food at a restaurant and then headed towards the Amer Fort.  One of the great architecture of all. A huge monument.  We had also taken a guide with us to know about its history.  The Original Sheesh Mahal is here.  Jodha Akbar Movie was also shot here.
We also saw Pink City and the other shopping places.
Then moved further to shop more as the Mina Community were the traditional makers of the products that were sold in the cities. And moved towards the metro station after having food in the evening.  We took a ride from Bus stand Metro to stop at the Railway station and then headed back to the hotel for resting.
Day 5: 9th January 2020.: A trip to The Heart of India: Rajasthan…!
We started early this morning towards Ranthambore National Park to see Tigers.
We Hired a canter(20 people seating) 800/- Person and then started for Safari at 2:00 PM. It was a good experience. We saw Sambar, Reindeers, different birds, Kingfishers, Crocodiles, Squirrels.
Though spotting a Tiger was unsuccessful but it was a Joyful and enthusiastic Safari.
We now started for the next part of our Journey "Udaipur".
Udaipur is 8 hours away from Ranthambore.  We reached late Udaipur and stayed at Hotel Oasis Park which is merely 5-6 km away from the city center.
We rested there.
Day 6: 10th January 2020: A trip to The Heart of India: Rajasthan…!
We parked our vehicle at the Hotel and hired an auto to reach the city center to see the City Palace.
The City Palace was a huge palace with Maharanas currently staying there.  We had taken a guide here. Here per person entry is Rs.400 and Rs.100 for Students, Guide fee is Rs.300.
The Palace was on the side of Pichola lake.  The whole of the palace view was breathtaking.
We had our evening snacks at Ozen Restaurant just near the Palace.
In the evening we went to the Tibetan market near the City Palace and also had some Panipuri (Golgappe) and then Walked beside the Pichola Lake in the Palace Surroundings.
We went back to the hotel later by booking an Ola(103/-) as Auto Charged us 200/-.
Day 7: 11th January 2020: A trip to The Heart of India: Rajasthan…!
After our breakfast at one of the Mishtan(Sweet Mart – Samosa, Pyaaz Kachori, Dhokla, Khatta Dhokla, Jalebi, Imarti Jalebi) we headed towards the Kumbhalgarh fort (40/- Per person).  This was also a Palace cum fort with good history situated in the Aravalli Mountain range.
This place was 80 km away from the city center.
We returned to the city center and had evening snacks (Moong dal Pakode, Jalebi, Imarti Jalebi, Masala Dudh).
Then we headed towards the Fatesagar lake for sightseeing.
Experienced adventurous boating and then visited the Aquarium.  We then moved towards the PVR cinemas Theater, had evening snacks, and watched the movie "Tanhaji-The Unsung Warrior".
We headed back to our Hotel.
Day 8: 12th January 2020: A trip to The Heart of India: Rajasthan…!
We had our breakfast at the Punjabi Dhaba (Day 2 – Dhaba) and then headed towards the Sajjangarh Palace or the Monsoon Palace.
It was used as an observatory during the Monsoons.  Nothing much but the height was worth seeing and then the Photoshoots continued.
We then headed towards the City Palace to see the Bagour ki Haveli and the Museum.  Then in the evening, we spent the whole time Shopping.
We had visited an uncle's shop "Ashoka Toys".  The Jolly Uncle showed us a variety of things and we were stunned to see those.  It was the best part of shopping. Affordable and cheap rates.
We then headed towards the Hotel for packing our bags.
Day 9: 13th January 2020:
We started at 7:45 AM and headed towards our Homes Pune.
On the way, we visited a Mall on the Highway where we found a store "One Center" where everything was so cheap and we were astonished to see this type of shopping place.
Then we moved further and in the evening we had our dinner at the Pritam's Dhaba just opposite of Kinara Dhaba.
We reached Pune by 3:00 AM.
 EXPERIENCED BY KARAN KISHORE SHINDE
WRITTEN AND ANALYZED BY APURVA KISHORE SHINDE
Also, read
Importance of Legacy Modernization
Did you like this post?