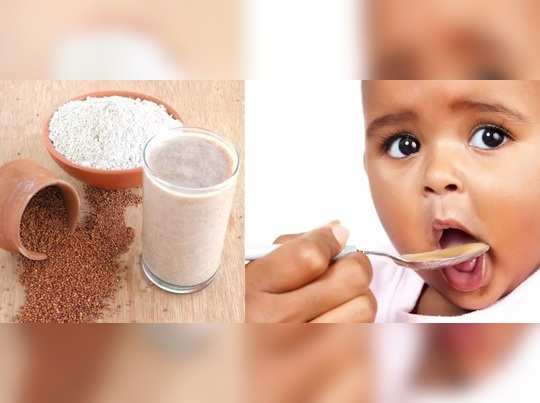 It is suitable for everyone to give a nutritious Finger Millet to a child like this and refuse to drink it!
We will first add liquid type food when the baby starts breastfeeding. It is customary to soften solid food as well. It is common to give the baby too much porridge or gruel. If children are very fond of such porridge, they will not deny it even after growing up.
Made with only cashews, this Finger Millet powder tastes excellent with children and adults alike. Not only this, with the help of home remedies, but you can also do wonders. Let's see how to prepare.
Required
Keshwaragu – 1 cup,
Poppy seeds – 1 tbsp
Cardamom – 2 (fragrant)
Sorghum, green rice – 1 tbsp each
Dry nuts – 10 each,
Cocoa powder- 2 tbsp
Milk powder- 2 tbsp
Rock salt – 2 stone
Clean the cashew and remove the dirt and stones. Soaking the Finger Millet in water will remove the skin on top of it. Then soak the ragi in the amount of immersion and after 10 hours, drain that water.
Place the drained Finger Millet on a clean white cloth and lightly wrap tightly. Spray water on it once a day to keep them from drying out. Germination will be in 3 days. Pour the sprouts on a wide plate and let it dry. Once well dried, the powder can be prepared.
Add the sprouted Finger Millet to the pan and fry. Fry until it goes fragrant and pours it on a hot plate. Similarly, fry the dried nuts, poppy seeds, jaggery, rice and cardamom separately. Fry the rice and jaggery. Pour everything together and let cool.
Put a little bit in the mix and grind without lumps. The lump will be lumpy even if it is moist. Grind without lumps and pour into a wide plate and mix both cocoa powder and milk powder. If you want sweetness, you can mix sugar and caster sugar. Once everything is well mixed, it can be bottled in a glass bottle and kept in the fridge.
It is better to prepare and use this powder from time to time, as it should not be kept for more than a month. Warm water can also be mixed when giving to a baby—just giving it once a day is enough. You can mix a teaspoon of powder in milk after one year of age. If you do not add sweetener during preparation, you can add sugar or cane sugar as required when mixing it. You can mix it with hot water and drink it during trips. It is a nutritious powder suitable for everyone, from children to adults.
Cashews contain more calcium and phosphorus than other grains. Helps maintain calcium levels in the blood. Giving this to growing children strengthens their bones. The nutrients in cashews are the same as in rice.
High in fiber. It is also suitable for growing children and adults as it increases the number of good fats in the body. It is said to be a nutritious drink to the baby after six months as it contains all the nutrients like B complex vitamins and minerals. Cashew can be given to the baby without hesitation, as it is easy for the baby to digest.
I have already given the method of providing cashew milk. Currently, this powder recipe will also improve your baby's nutrition. This is for moms. It can be given to everyone as children and the elderly.
Did you like this post?