Camphor (Oma plant) can often be grown in flower pots. This is a very medicinal plant. In the present era, we are forgetting all the medicinal plants. Can prevent.
Camphor (Coleus aromaticus) is a medicinal herb. It is found in countries like Sri Lanka and India and grows as a shrub. The stem of this fragrant plant has long hairs like thorns. Its leaves are thick and smooth. Its leaf has medicinal properties due to its bitter taste, alkalinity a,nd aroma. It is widely grown in homes. Camphor has many medicinal properties. Let's see how to get rid of cold and cough by drinking tea in it.
It takes 8 months to grow camphor in our home. Its leaves begin to bear fruit in 8 months. Its stems and leaves are useful.
uses
Parts of camphor plants are important to medicine for coughs, colds, and colds. It is an antiperspirant and a sedative.
Mix leaf juice with sugar and give it to children to cure whooping cough.
Mix leaf juice, oleoresin, and sugar well and apply it on the forehead to get rid of headaches.
Cough and runny nose to drink the leaves and stalks.  Its leaves can be washed, extracted, mixed with two ml of broth and eight ml of honey, and given to children to cure chest mucus.
This herb has medicinal properties that can stop indigestion and vomiting in children.
Grind this leaf for tumors and the tumors will dissolve.
Preventing muscles from contracting. Its juice is used as internal medicine for stomach ailments, relaxation diseases, and for inflammation of the eyes.
In the medical field, it is a nutrient for the nerves. Corrects mental disorders.
It is also recommended to urinate easily. It is also considered as a blood purifying plant.
To control mucus in children:
Put 4 or 5 clean camphor leaves in boiling water for the baby to drink and take it out after a while.
The juice of the leaf is completely submerged in water and the water turns slightly green.
Give the baby only that water to drink. Give water like this for 2 or 3 days. The intensity of the mucus in the baby will be controlled.
Camphor tea for colds and coughs
Tea powder – 1 tsp
Honey – as per required
Water – 2 cups lemon juice – 1 tsp
Ginger – 1/2 piece
Pepper – 4
Cardamom – 1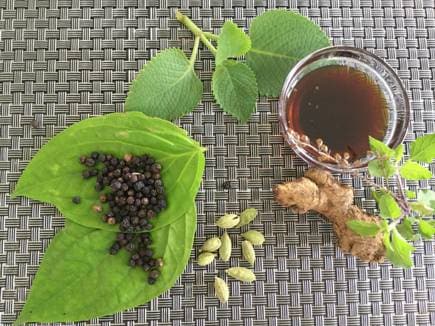 Recipe:
Wash camphor leaves and keep clean.
Pour water in the bowl and add tea powder and bring to a boil. Then add camphor leaves and bring to a boil.
Then slice the ginger. Grate the pepper and cardamom. Boil well. When it boils, strain it.
Finally, pour into a glass and mix with lemon juice and honey. It would be nice to drink in the evening.
Medical disclaimer for the site:
The statements made in this website have not been evaluated by the Food and Drug Administration and represent the opinions of the authors. The authors are not medical doctors and do not engage directly or indirectly in diagnosing disease, dispensing medical advice, or prescribing the use of any products or services as treatment for sickness or disease. This information is for educational purposes only and is not intended to replace consultation with a qualified medical professional.
Did you like this post?