Semarang is one of the cities in Indonesia which is located in Central Java, Indonesia. In addition, Semarang is the capital of the province of Central Java. Semarang also has its unique cuisine, namely lumpia Semarang. Besides being famous for its spring rolls, it turns out that Semarang also has various interesting tourist destinations to visit. Here are 5 tourist destinations in Semarang  that you must visit.
1. Sam Po Kong Temple
It feels unfair if you don't visit the Sam Po Kong Temple. This temple, which is located on Simongan Road, Bongsari, West Semarang, is indeed full of the history of its Nusantara. This location is the former stopover and first landing place of the Chinese Muslim Admiral Cheng Ho. You can also see the history of Cheng Ho's landing here. Don't forget to rent Chinese clothes that are available at the main counter. Sam Po Kong temple is open from noon to evening but the right time to visit here in the afternoon where the visitors are not too crowded.
2. Pagoda of Avalokitesvara
This pagoda is located at Jalan Perintis Kemerdekaan, Pudakpayung, Banyumanik, Semarang. This Pagoda is still used as a place of worship for the Buddhist community to this day, but has now become a tourist destination for the general public and is one of the mainstay destinations for the city of Semarang. Just like Sam Po Kong, Pagoda Avalokitesvara can also be an interesting photo spot for those of you who visit. There is no entry fee to enter this temple, but you will be charged a parking fee accordingly.
3. Simpang Lima Semarang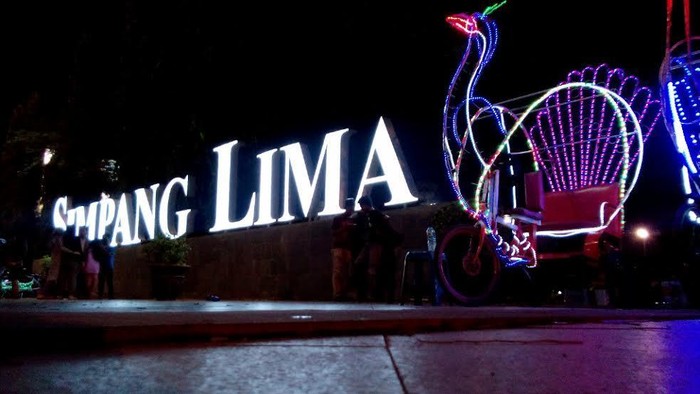 Semarang Pancasila Field or familiarly called Simpang Lima Semarang is an attraction for tourists when visiting Semarang. Simpang Lima Field is quite strategic to visit. The crowd began to appear since 17.00. Here you can try out various activities such as riding a triple tandem bicycle, trying out a decorative tandem bicycle at a relatively cheap price. After getting tired of exercising with the two activities above, you can pamper your tongue by tasting a variety of Semarang specialties that are served through the stalls located at Simpang Lima.
4 Lawang Sewu
This Dutch heritage building has its own charm for tourists who want to visit this Dutch heritage building. The attraction referred to here is related to the mystical stories owned by Lawang Sewu. Previously, Lawang Sewu was a former railway center in Indonesia. This building is called Lawang Sewu because the number of doors reaches 1000 when in fact the number of doors is only 342. You visit whenever you want because Lawang Sewu is open Monday-Sunday. The ticket prices are quite cheap.
5. Marina Beach
Because it is located by the sea, Semarang also has marine tourism. And Marina Beach is one example. This beach is equipped with a swimming pool, jet ski, and a playground for children, making it suitable as a family tourist destination. This beach is located on Jalan Yos Sudarso.
Did you like this post?