Traveling is fun for everyone. With a tour, you can refresh your mind, learn new things, and many more positive things that you can get with a vacation. People usually travel to places that have historical values, unique culture, or tourist attractions that have beautiful scenery. Talking about tourist attractions there is one island in Indonesia which is famous for its beautiful beaches and natural scenery. Yes, the tourist spot in Bali. Bali is an island in Indonesia, one of the countries in Southeast Asia that are famous for its beautiful beaches, nature, and culture that is still very strong. Bali has several interesting tourist attractions and is quite beautiful for tourists to visit. Here are 5 tourist attractions in Bali that are famous for its beauty.
Kuta Beach
Kuta Beach is conveniently located in the western part of the island of Bali, precisely in Kuta District, Badung Regency. One of the things that make this beach always crowded, other than because of its beauty, because of its strategic location. Kuta Beach located not far from Ngurah Rai International Airport. From the airport to the beach, the trip only takes about 15 minutes. Because of its strategic location makes this beach is always crowded with tourists every day. This beach offers amazing natural scenery as well as big and challenging waves for surfers. No wonder many surfers come to Kuta beach to surf. Visitors who also want to learn to surf are also highly recommended to learn to surf here because the waves are big but safe enough for surfers. In addition, along the coastline, there are also many merchants who offer a variety of goods and services, such as massage, souvenirs, drinks, etc.
2. Campuhan Hill
Nature tourism is lately viral on Instagram because of the many photos that show the natural beauty of this place. This hill is located on Jalan Bangkiang Sidem, Kelusa, Payangan, Ubud, Gianyar Regency, Bali 80571. To go to Campuhan Hill, you can depart from the center of Bali that will take about a 1-hour drive. From there you can travel to the west and then you will find a hotel in Ubud called the Ibis hotel before the Campuhan river bridge. Then, turn left towards the road which is slightly downhill to get to the Campuhan Hill location. To get to Campuhan Hill, you can use a private vehicle, or by using a vehicle rental service. And you can also visit here by bicycle. Activities you can do here are hiking, jogging, trekking for those of you who like to exercise and climb.
3.Tegallang Rice Terrace
This tourist area is a rice field area located in Ubud, Bali. Tegallang is famous for its terraced spatial layout. This terrace is a traditional Balinese irrigation system known as Subak. Located in a valley, the Tegallang rice field offers a very beautiful view with a green landscape around it. It is the most popular tourist spot and must be visited when you are in Bali. To go to this place is not difficult, you just have to travel 20 minutes from the north of Ubud. The route to get here is pretty good, no traffic at all. The road to Tegallang is relatively easy if you use a car or with your motorcycle. The price of Tegallang admission is free, but you should bring money.
4. Pandawa Beach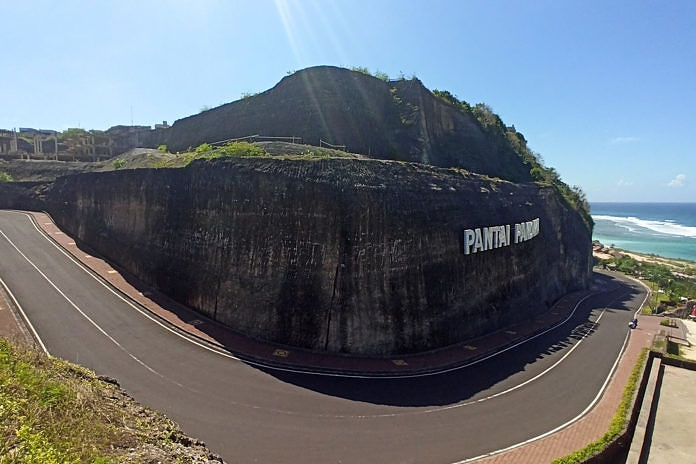 This beach is one of the white sand beaches which is quite popular. The beautiful stretch of coastline and cleanliness of the beach are the main attractions of this beach. This beach also has calm waves that make it is suitable for those of you who can't swim. This beach is located in Kutuh Village, Kuta Selatan District, Bandung Regency. Its location is also not far from Melasti Beach makes this beach one of the highly recommended beaches. On this beach, there are various kinds of activities that you can do. Like visiting 5 Pandawa knights statues which also became the name of this beach, swimming paragliding, and many more.
5. Melasti Beach
This beach offers a view of the cliff that stretches across this beach. Besides enjoying the natural scenery of this beach, you can also swim and surf at Melasti beach. Melasti Beach is also used as a place for Hindus to perform Melasti Ceremony on Nyepi Day. To go to this beach is not difficult you need to follow this guide so you don't get lost. Melasti Beach is located in Ungasan Village, South Kuta District, Badung Regency, Bali directly on the Ungasan hill peninsula. This also makes this beach known as Ungasan Melasti beach. To get to Melasti Beach, you will travel a distance of approximately 9 kilometers or equal to 25 minutes of travel time – if you depart from Kuta. You will cross a cliff that is quite high at around 100-500 meters. For vehicles, you can use public transportation. However, your tiredness and patience will be paid after seeing the scenery here.
How? Are you interested in visiting the five tourist attractions mentioned above?
Did you like this post?