Despite many companies developing a content marketing strategy after Bill Gates declaration that CONTENT IS KING, many have failed to reap returns from heavy investment in their content marketing campaigns.
Here are the main intricate reasons behind companies' failed content marketing strategies and campaigns to help you avoid making the same mistakes.
Mediocre Content and Lack of Content in your Content Marketing Strategy

Content that is not congruent to the theme of the business activities of a project or company which it promotes will fail to build the intended successful brand and brand name thus causing failure for the organization.
Besides acquiring the most credible, recent, relevant, and best content for continued customer confidence, it is equally important to make sure your content is enough to adequately cover your intended purposes.
Lack of Content in Your Content marketing strategy 
Content is the backbone of the company and communicates what the company is about.
Failing to initially put up a content marketing strategy in the first place accounts for a very large number of failed content marketing projects in companies
A content marketing strategy does not only provide a blueprint to guide in the successful development and implementation of the companies content but also communicates the companies purpose and objectives and the services offered by the company.
It is advisable to have a content marketing strategy in writing from the word go as a road-map and guide to your content implementation.
Mediocre Content
There are many ways in which content can convey the wrong message thus causing dire problems for the company.
Some mistakes are textual while others are visual while others are found in the choice of a bad theme for your site.
Make sure to use captivating videos and pictures and standard text that is in a readable size font like Times New Roman or Arial font size 12 or 14.
 Engaging Content
Engaging content keeps your client busy and interested in increased returning customer build-up. It  includes Search Engine Optimization and Quality Content for best User Experience
 Search Engine Optimization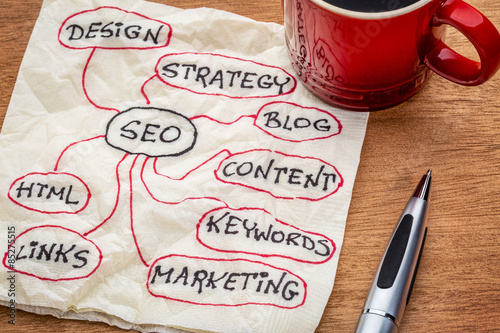 The failure to optimize your keywords to be easily found in the search engines is another major contributor to failing in content marketing.
To optimize your content you need to identify which KEYWORDS your client uses most frequently in search engines to look for the goods, services, or themes you are offering on your website, social media sites, and other online locations.
On establishing this, you should include these keywords in your titles, subtitles, headers, and in your content to make yourself very visible online.
You should use SEO tools like Google Adwords, Google Analytics, SEMrush, MozBar, among others in the second URL link resource below to ensure your content has the priority in search engine searches.
By using Search Engine Optimization tools your targeted clients will find your products or services before finding your competitors. This gives you an edge over your competitors as you will harness more clients out of the pool of existing clients.
Another worthwhile strategy will be to make sure your content is captivating and portrays the advantages your products and services offer above those of your competitors including, cheaper prices, better quality, after-sales services, and online payments among many others.
   Top Content Quantity and Quality and the Best Customer Experience
Your content quality is very important in determining whether your customers get the best experience when interacting with your websites and mail ads.
Having inadequate content leaves your clients in conjecture and speculation.
Inadequate content leaves your customers taken aback about the adequacy of your services and whether you can deliver if you cannot even provide enough information about what you do or offer thus leading to lost sales opportunities.
Do not keep mentioning your product or service too many times in your content but rather try to be as informational and as precise about it as possible.
Provide sources in your content to ensure credibility and avoid giving uncertain and false information.
Provide positive attitudes in your content to keep the reader engaged and avoid conflict and violence creation with your competitors while trying to malign them.
Bad content quality will put off your customers immediately, meaning lost sales for your business.
To improve the quality of your content consider hiring an expert or outsourcing your content and content marketing needs from a verified consultant company to ensure your success in achieving your business objectives and goals.
One of the best strategies is to let your content come from your target audience at the inception of your project or company.
An online survey or questionnaire research will help you collect data to gain an in-depth understanding of your customers take and needs about the product or service you are about to launch to help you gain the advantage of investing in a niche that will hardly fail to make you profits once you launch your content.
Expand your horizons by researching for differentiation in client problems, products, and services to have the option to pick the most unique niche in your portfolio of products and services for which you are considering creating content and launch.
Your content counts for the best if you solve persons or a certain societal problem or when the content is conversational with the customer, which eases some of their pains and problems while adding value to their lives.
Such metrics will help you understand whether your product, service, project, or company is viable before you spend on the implementation process.
Using Technology to Structure and Arrange Content Correctly
Incorrect data structures and formats can distort the meaning conveyed by the content or make the content very awkward to read as it is mismanaged and does not flow well leading to a failed content strategy.
Understanding data structures helps you to arrange your data in the most efficient way that will keep your customers coming back to read more.
Using the correct data structures may include using labels, headers, and short, catchy sentences which make your content to be easily understood and captivating for the reader besides being informative.
The trick is not to mention yourself directly while making sure your content is easy to access and captivating enough to keep the reader reading.
Provide SEO friendly headers that are visible on Google Search and Google Adword Search Engine rankings and credible links to your content.
Do not fear advertising for your competitors if they measure up but show how your product is better or better still make sure it is a better and cheaper product or service to sell itself automatically.
Being visible everywhere possible in online distribution channels is the next big trick in successful marketing campaigns. This will require you to arrange your content and data structures to fit the distribution channels you intend to reach your global audience.
                Lack of Distribution and Advertising Campaigns
One of the main reasons which contribute to failure in content marketing is the lack of distribution and advertising campaigns.
Having developed your content and a content marketing campaign, it is only prudent to do a follow-up campaign to make your content known and available to your clients and customers.
Just having your content sitting in your blog and other internet sites and locations does not mean that your customers will know that the content exists to be able to read it.
Most companies feel exhausted by the financial constraints of developing content and a content strategy and fall back to laxity when it comes to advertising by assuming that the published content will be available and viewable publicly in online sites.
Considering and putting up an advertising campaign from your projects and companies' inception planning through to implementation ensures you allocate in your budget the full follow up content advertising funds to avoid feeling the financial pinch in completing your content advertising cycle.
Some possible solutions include having an e-mail content marketing campaign by use of email marketing software and creating an email list to advertising your content in social media like WhatsApp, Facebook, LinkedIn, Twitter, and Instagram, among many others.
Advertise your content but do not reduce to begging for social shares.
Patience in Monitoring and Control Metrics and Data Analytics
Using performance metric analysis sites like Google Analytics Hotjar, HootSuite, and
KissMetrics, Buzzsumo, SEOspyglass and, Ahrefs will help you know how to keep tabs
on your content performance.
This will help you to keep a tab on the informed measurement about the performance of
your content and thus enable you to make informed decisions about your content
marketing strategy performance.
Your content marketing strategy will take some time to yield results, so for you to start
experiencing returns in terms of traffic and financial incomes you need to allow or set
an allocated time frame which is reasonable before deciding to put in more resources
or dumping the content marketing campaign or switching to a new one altogether.
Content Optimization Link Resource
Finally, arrange all your steps in a systematic order to remain effective from the planning process, and thorough analysis and implementation to maintenance, control and ensuring success in your content marketing strategy.
Did you like this post?